The Tesla Model 3 has taken the EV market by storm by offering excellent performance and a sleek design combined with cutting-edge technology, which sets it apart from all other electric vehicles on the market. Alongside the performance, the Tesla Model 3 boasts an elegant interior with much room for accessorization. 
Many Tesla owners opt for real carbon fiber accessories to make the interior look unique. There are a large number of manufacturers that design Tesla Model 3 accessories that range from steering wheel covers to dashboard covers and even spoiler covers. This help provides protection to your vehicle from scratches and elevates its look.  
Why Use Carbon Fiber Accessories for Your Tesla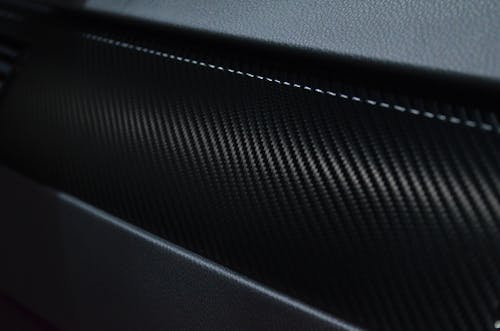 Tesla has a minimalistic approach to their design, which is evident from its all-black interior. When the Tesla Model 3 (2023) was released, it became evident that Tesla was aiming to simplify the interior. Almost everything is controlled by the touchscreen at the center of the dashboard and the buttons on the steering wheel.
Lightweight
One of the most significant benefits of carbon fiber accessories is that they are lightweight. This is an essential factor for electric vehicles, including Tesla Model 3s since any added weight will reduce the vehicle's performance or the battery range. Additionally, a light vehicle is easier to control as it accelerates, stops, and turns better. 
Durable
Carbon fiber is considered an excellent material for Tesla Model 3 accessories because of its many desirable properties, including toughness and strength. This material can be forged into many shapes and can be used to make various accessories with ease. This material is also rust-free and does not corrode even if no paint or primer is put on it. The high toughness also makes it a suitable material for exterior accessories that tend to go through a great deal of wear and tear. 
Thermal Friendly
Carbon fiber is associated with performance and quality. One way it is able to do so is through its thermal-friendly nature. Cars produce a lot of heat. Since this material is a poor conductor of heat, it has a low thermal expansion, meaning it does not weaken or expand when exposed to heat. This feature also makes it durable since it is not deformed by the heat produced by the car. 
Tesla Model 3 (2023) Carbon Fiber Accessories You Should Consider
As a Tesla owner, the minimalist design offers many avenues for accessorization and design. One of the most popular ways is through carbon fiber accessories. They are known for their style, lightweight nature, and thermal friendliness. They are an excellent choice for Tesla Model 3s owing to their simplistic design. Here are a few must-have accessories. 
Dashboard Replacement
A dashboard is one of the most prominent interior features of any car. Although the Tesla Model 3 (2023) dashboard is sleek and elegant, you can replace it with either a carbon fiber matte dashboard replacement or a glossy dashboard replacement. This material will help transform the look and feel of your vehicle as it adds a touch of elegance and sophistication to your interior. Therefore, this accessory will allow the interior to look more premium and luxurious in appearance. 
The smooth matte coating on a carbon fiber dashboard replacement is smooth and uses the highest quality material. Additionally, it is made to fit the Tesla Model 3 (2023) perfectly, so no additional modifications are required, and it is ready to install out of the box. 
Door Trim Replacement
The door trim of the Tesla Model 3 (2023) presents another opportunity to customize the vehicle. Using high-quality carbon fiber door trim replacements can greatly help revolutionize the interior of a Tesla since it has a delicate weave design that adds sophistication to the interior.
There are many different carbon fiber finish options to choose from as well. There are matte door trim replacements and glossy door trim replacements too. Glossy carbon fiber accessories often get a bad reputation due to their sun glare. However, choosing one that distributes sunlight evenly over the surface can help avoid this issue.
Conclusion
Customizing your Tesla Model 3 (2023) using real carbon fiber interior accessories is an excellent way to elevate the overall look and feel of your EV. Accessories made with this material offer many benefits, including durability, thermal-friendly properties, and lightweight nature. With the overall minimal design of the Tesla Model 3, carbon fiber accessories are an excellent way to add a touch of style and personalization. 
When it comes to accessories for your Tesla Model 3 (2023), there are several products sold online that can significantly enhance your driving experience. This includes spoilers, door trim replacements, armrest covers, steering wheels, and dashboard covers. You can easily search through the website using the new date, low date option, or a-z alphabetically since most websites feature their best selling alphabetically.